Dr Vida Obese Donates To GCF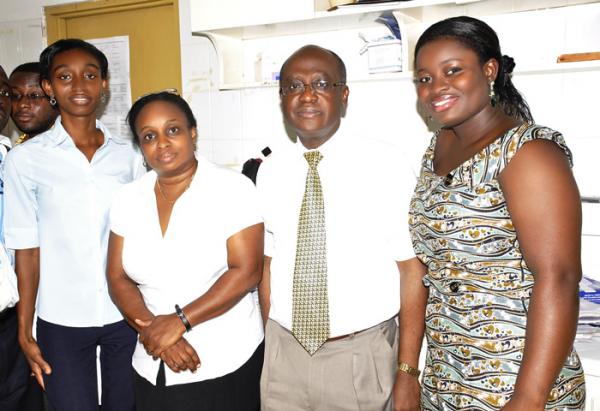 Dr Vida Obese, a Medical Officer at the Obstetrics & Gynecology Department of the Komfo Anokye Teaching Hospital has made a cash donation of Two Thousand one Hundred Ghana Cedis (GH¢2,100) to the Ghana Cleft Foundation. This donation, which was made to commemorate her birthday, is to bring smiles to the faces of seven children with cleft lip and palate.
The President of Ghana Cleft Foundation, Prof. Peter Donkor, who received the donation on behalf of the Foundation, expressed their profound gratitude to Dr Vida Obese for her generous gesture.
LIST OF DONORS TO THE FOUNDATION
1. MS FLORENCE NANA KWAKYIWA MENSAH
2. MR KWAKU SAKYI-ADDO
3. MR TONY FORSON
4. DR GILLIAN HOLD-REDDICK
5. MS SERENA KWAKYE-MINTAH
6. MR IBRAHIM MAHAMA
7. MR DESMOND BLOOM
8. DR VIDA OBESE
9. CAL BANK
10. SSNIT ASHANTI
11. NESTLE GHANA LTD
12. LUV FM
13. DR YAW ADU-SARKODIE
14. UNIQUE TRUST FINANCIAL SERVICES
15. DR KWABENA OPOKU ADUSEI
16. DR & MRS ATTA KWAMI
17. KWASI OPPONG CO. LTD
18. DR ANOLD AMISSAH AIDOO
19. MS CECILIA KWASHIE
20. SAFRIK MEDICAL SUPPLIES
21. MRS LYDIA BEDU-ADDO
22. MR YAW OSEI-WUSU PEPRAH
23. ST. GEORGE'S CHURCH - KUMASI
24. MRS JOYCEPEARL ASANTE-KROBEA
25. MR. ERNEST OBENG ADU
26. MTN Foundation
27. Harvesters Evangelistic Ministry
28. Full Gospel Men's Fellowship International (FGMFI)
29. Mr George Owusu
30. MR ADEL DAKMAK
31. MR JOHN W. CRAIG
BANK NAME: ECOBANK
BRANCH: HARPER ROAD
LOCATION: HARPER ROAD, KUMASI, GHANA
ACCOUNT NO. 1441000154382  ACCOUNT TYPE: CEDI
SWIFT CODE: ECOCGHAC
DOLLAR ACCOUNT NO: 2441000154381


Mobile Money No. 0554469005